Ask Us About Oticon More
Looking for a more natural sound? Oticon's latest hearing aids include technology that learns how to hear through experience, much like your brain. Research shows that 8 out of 10 people prefer the sound quality from Oticon More hearing aids over the competitors. Ask to see the latest styles, colors, and options.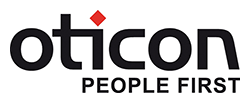 We Carry All the Latest Oticon Hearing Aids
Oticon's slogan is "people first" and are dedicated to empowering people to communicate freely and naturally. A world leader in hearing science and technology, they've offered innovative solutions since 1904. We carry all the latest models including:
Oticon More
Oticon OPN S
Oticon Xceed
Oticon Ruby
Oticon Opn ITE
Oticon Siya ITE
Ask for a free demo.
Oticon Hearing Aids use BrainHearing™ technology for more natural hearing